Bleh.
It's been a long, irksome week for the most part. This seems to be a National issue at the moment, so let's try making things a bit better by laughing at the sheer ludicrousness and (all too scarce) ingenuity of the interwebs people in my 'puter shall we?
First up, this shared with me this morning by one of my buddies, @dawid22 who had this to say "I imagine that chicken pecking the shit out of someone". Me? I imagine that the chicken is actualyl one of Gustavo Fring's ill-conceived henchmen sent to deal with a rival fast food "chicken" chain.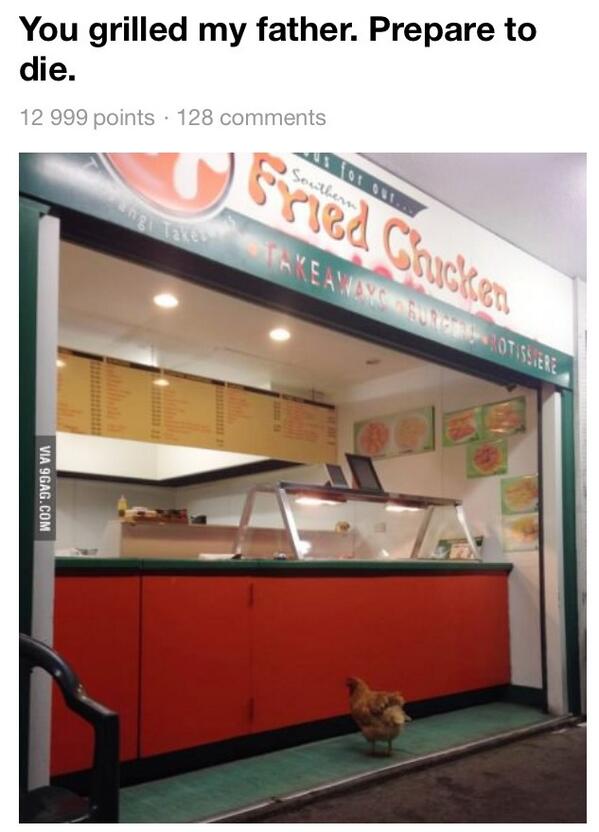 A little known fact by most who know me, but I really enjoy crafts. I never finish any of them, of course, but I really REALLY enjoy starting them. In this spirit I was hunting down some new cross stitch patterns online, Nintendo themed, of course, and came across this:
If you've never heard of the infamous "2 girls 1 cup", you won't get this. And no, I'm not linking it for those who haven't. Oddly, my very open minded other half was offended by this. I assume it's because his precious Daisy has now been tainted / associated with something I'm advised is not a pretty sight. Believe it or not, I have thus far resisted the temptation to Google the inspiration behind this image, and I probably never will. I can safely assume that he has though, and it wasn't to his liking and is now tainting the sanctity of his favourite Mario Kart racing gal 😛 Me? I just think it's funny.
This one was sent to me via my gamer group e-mails, and gave me a good giggle. I doubt he actually ever gets anything built, but you have to admire what must be the world's strongest neck muscles and best inner balance known to man.
Lastly, here's humour and retail therapy rolled into one glorious and yet not overly expensive package, courtesy of the great peeps over at T-Shirt Terrorist. They have a great sense of humour and you're sure to find something for that special geek in your life on their site – I own a few of their shirts myself. I'm eyeing this one as my next add on:
Here are some of their other great ones; be sure to head over to their site to see the rest. You can also follow them on Twitter at @tshirtterrorist
That's it from me for this week, have a rocking weekend!!!